Bifold Door Colours
A bifold door becomes one perfect for your home with colours from Panoramic Bifolds' range. By choosing a unique colour for your new doors, you could make them stand out, blend in, and ensure you get doors that glow for decades to come. Our bifold doors have aluminium frames, meaning whatever colours you select will have a stunning metallic sheen.
But, while many companies offer colours, few offer as many as Panoramic. That's because we source our doors from leading manufacturers, who think about colour from the moment they start creating their high-quality designs. Take a bifold door from Origin, one of our partners – they have 150 unique RAL colour options, and dual colour options as well!
Because of this, Panoramic can help you light up your home. Our bespoke bifold doors give you more ways to style your living space, and the stunning design of bifold doors makes it feel more open and welcoming. Not only that, but our designs use advanced materials to help secure your home, protect it from the weather, and to save you money on your energy bills.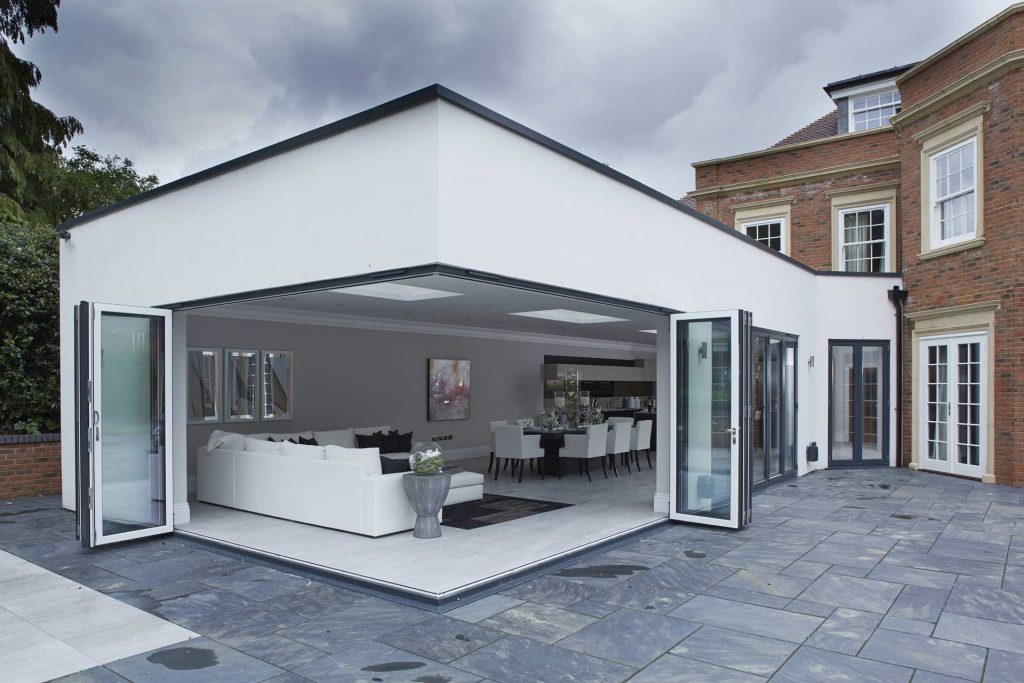 Bespoke Bifold Doors
At Panoramic, we know no two homes are the same. Because of this, we stop at nothing to make sure all of our customers have the chance to order bespoke bifold doors. Nothing feels better than a door that's right for you, so open the door to one by working with us! You can choose much more than your bifold door colours, too.
You'll be able to customise the size, shape and opening direction of your doors, making them better suited to your living space. You can customise how you use them, either as a way to open your home to your garden or as a partition to break up a large room into two. Not only that, but you can change the number of panels in your doors. That way, you take full control of how expansive your bifold doors will be.
Finally, our range of bifold door colours provides the perfect finishing touch. The colour you choose will last for your home as well. That's because aluminium is a fully weatherproof material, stopping it from fading and discolouring in even the worst conditions. Whatever colour you choose will continue to glow for decades to come.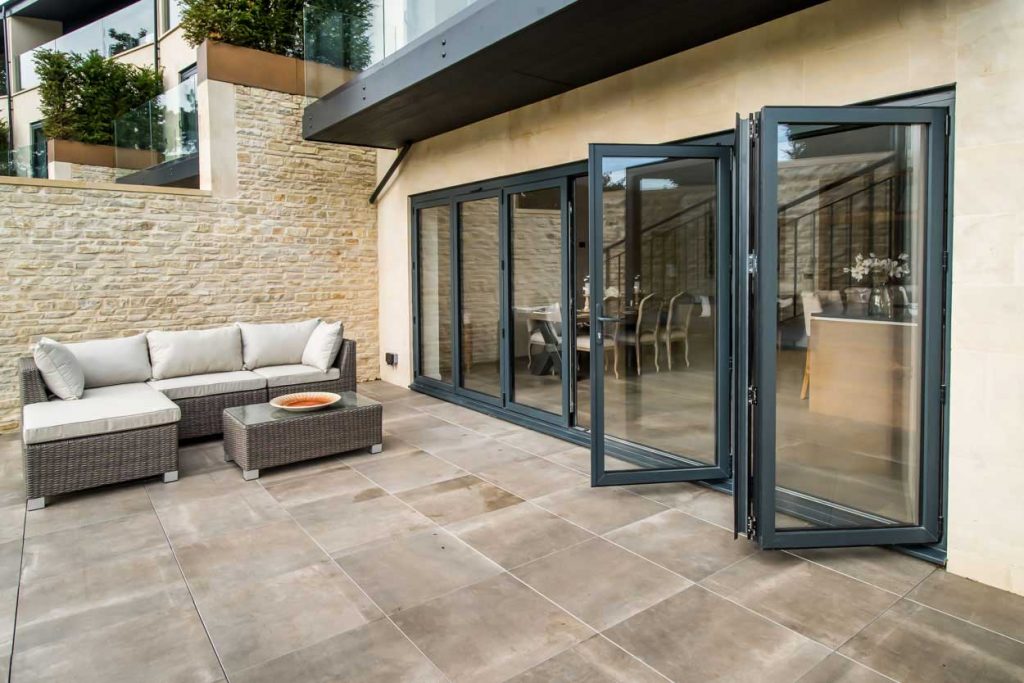 Grey Bifold Door Colours
With over 150 RAL colours available, you'll be spoilt for choice. That means it's hard to blame you if you feel a little overwhelmed. If you're looking for the best colour option for you, though, grey is a good place to start. Instead of the dull and drab grey that you might be thinking of, though, Panoramic offers bifold doors with anthracite grey, a stunning and textured finish.
Anthracite grey has depth, thanks to green and blue hues that shine more prominently in the sunlight. That means you get a stunning blend of muted and bold colouring, meaning your doors will feel unique. With an anthracite grey finish, you can also offer a sense of class that works well for business and commercial use.
However, if you can't choose one colour, you won't have to compromise. That's because, with Origin's bifold doors, you can choose a dual colour option for your home. That means you can select one shade for the outside of your home, and another for the inside. As a result, you'll be able to choose two stunning designs for the price of one.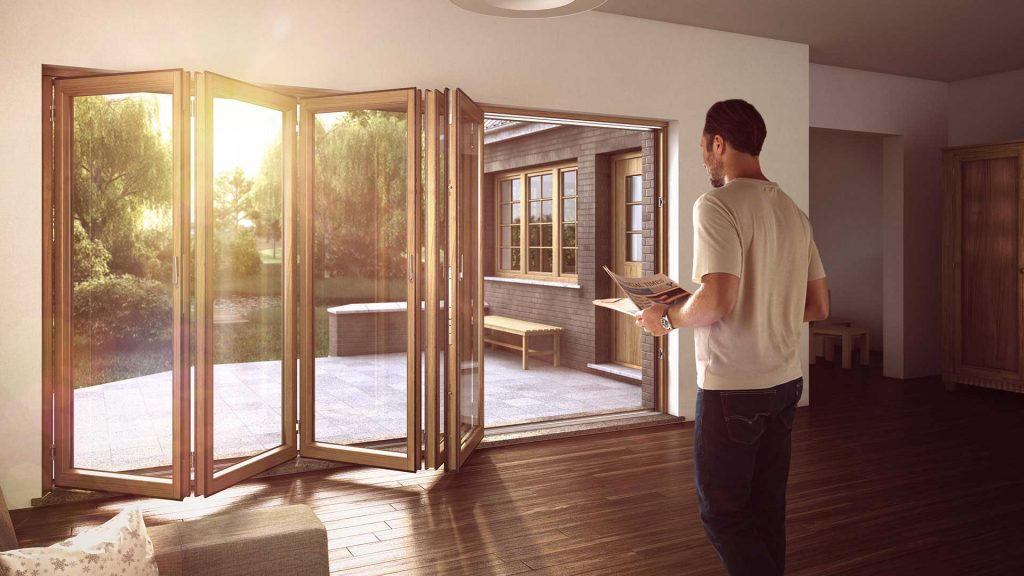 Lasting Bifold Door Colours
With aluminium bifold doors, you'll get colour that lasts. Origin's doors come with powder-coated colours, making them more durable. However, it's the design of bifold doors that helps your colours last. With their modern materials and advanced technology, Panoramic's bifold doors are an investment that lasts a lifetime for your home.
Our doors feature panels of double glazing, making them tougher and more efficient than older doors. Not only that, but aluminium is impact-resistant, making your doors more secure and ensuring the frames won't damage and fade. Because of this, the bifold door colours you choose today will keep their glow for thousands of days ahead.
Not only that, but our aluminium bifold doors are low-maintenance designs. That means the frames won't need regular cleaning or repainting! Because of this, you'll only need to paint your doors if you decide you want a new colour, rather than repairing your old one. That way, you can spend less time managing your doors, and more time enjoying them!
Bespoke Bifold Door Colours Prices
If you want to find competitive prices for a bespoke bifold door in a unique colour, there's only one place you need to go to. At Panoramic, we make sure all of our bifold doors are bespoke.
To get your tailored quote for a unique bifold door in any colour you want, design it using our online quoting engine. From there, you'll get a personalised quote in seconds for your design!
Alternatively, you can call our friendly team on 01179 560 449 today to ask us any questions you might have about bifold doors.
Categories: Updates
Tags: bespoke bifold doors, bifold door, bifold door colours, grey bifold doors