How to Maintain Bifold Doors
Finding out how to maintain bifold doors can help them last longer for your home. Not only that, but they'll look their best for decades to come. One of the best things about modern bifold doors is that they're easy to maintain. Unlike old doors with single-glazed glass and wooden frames, your bifold doors will likely have double glazing, along with uPVC and aluminium profiles.
Because of this, the whole system should be highly durable. As a result, colours should last, smoothness should stay, and the doors shouldn't lose their shape or strength. However, sometimes dirt and debris can get inside the doors when you open them, causing issues around the system. Your doors could be getting old, too, making them more likely to have issues.
Problems like these are why finding out how to maintain bifold doors for your home can be helpful. With only a few tips, you can make your doors last for decades, operating as they did on day one. You won't have to maintain your doors often as well – only every couple of months! For a small amount of work, you can benefit massively from well-maintained bifold doors!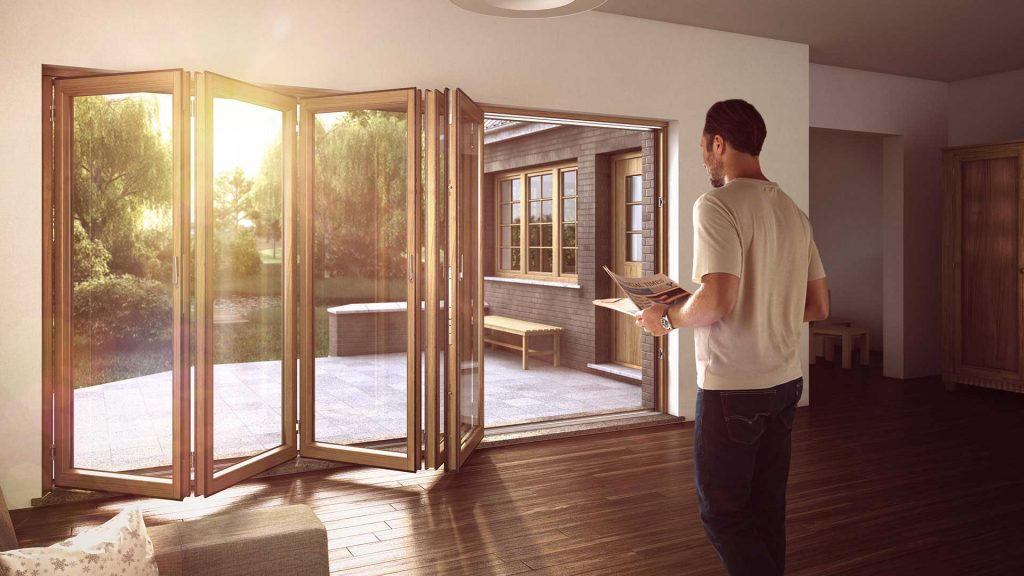 How to Check Bifold Doors
When you check your bifold doors, there are a few things that you should look out for. For example, your glazing can often show the first signs of issues with your entrance. If the glass is misting up, then it could be a sign of condensation, meaning your frames could have cracks or gaps in them. Also, if the glass has chipped, you can start considering the best replacement options.
Another place that its important to maintain bifold doors is the tracks. Your tracks go through a lot over the years, sliding across and potentially dragging dirt and debris around the in-line slider. As a result, some dirt can get lodged, meaning that you could have operation problems develop over time.
Also, the hardware in your bifold doors could need some maintenance. Over time, the hinges, multi-point locking systems and handles can all wear down or struggle with dirt and debris. Because of this, they may lose their lubrication, meaning the doors could begin to creak and crack when you slide them open. If you discover issues with any of these parts, then the proper maintenance can help.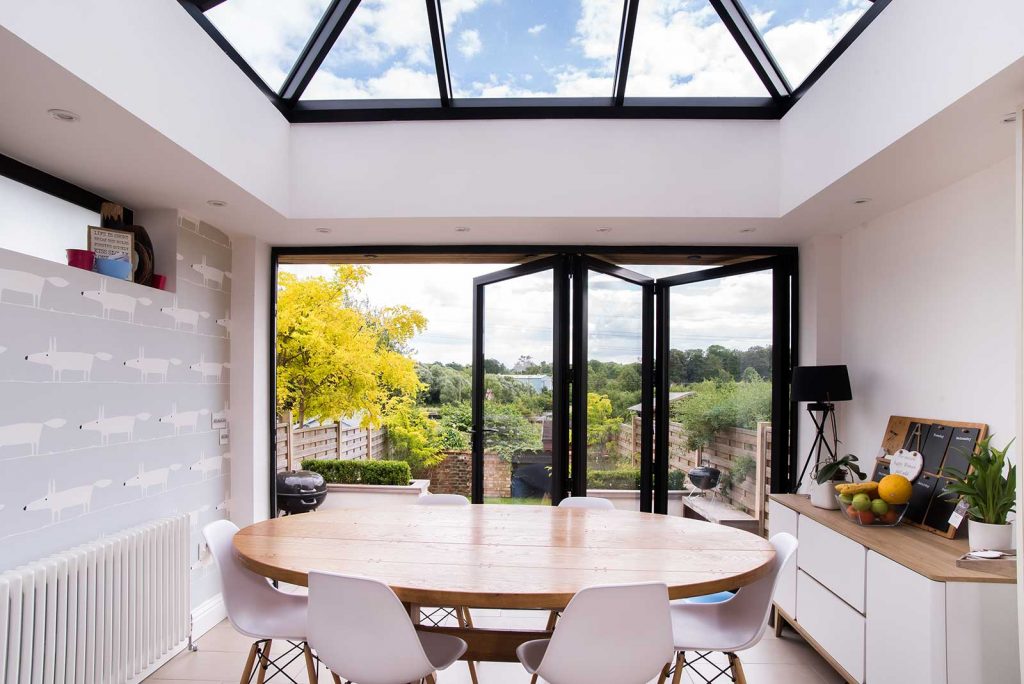 How to Clean Bifold Doors
To maintain your bifold doors' glazing, you can treat the design like any other window. All you'll have to do is use a damp cloth with a non-abrasive soapy liquid to wash the glass, inside and out. It's important not to use abrasive chemicals, as they can wear down the glass, making it weaker and more fragile over time.
If you want to maintain your bifold doors' tracks, then use a brush to get at any obvious debris. Once the major debris is removed, you can use a vacuum cleaner to hoover up any leftover dirt from inside the tracks. As a result, you should be able to remove any obstacles in the in-line slider, allowing your bifold doors to operate smoothly once again.
If you want to maintain your bifold doors' mechanical parts, you'll need to lubricate them. All you'll need to do is use silicone spray or grease to wipe the hardware inside, stopping them from creaking and wearing down. Because of this, the unique folding mechanisms inside your bifold doors should be able to last for years longer!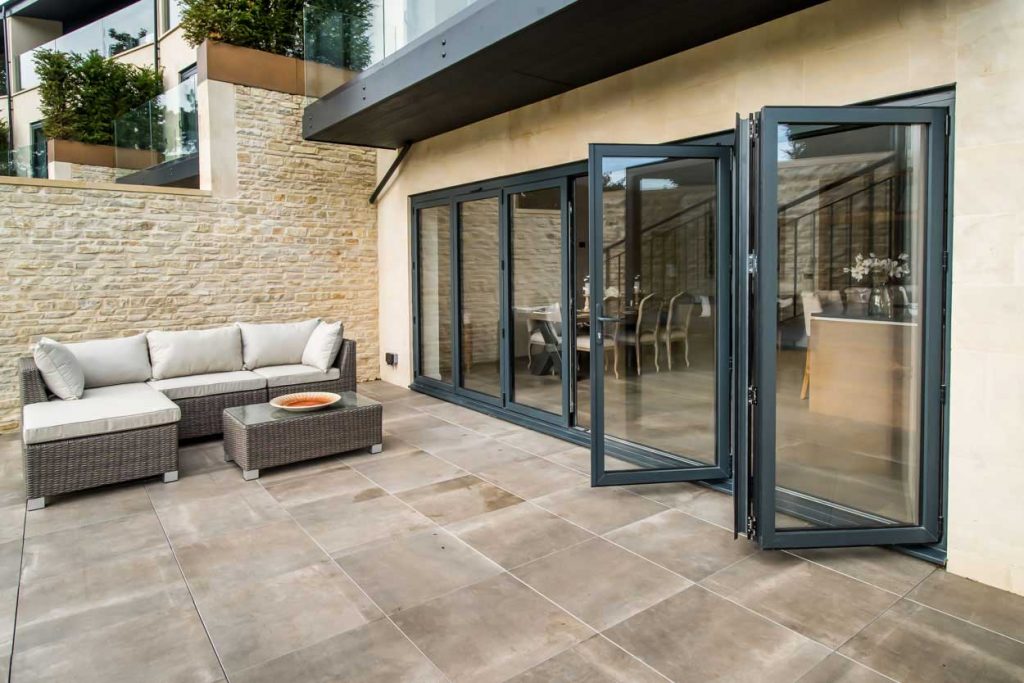 How to Maintain Modern Bifold Doors
Older bifold doors can be trickier to maintain. But, if you want doors that you don't have to worry about, why not get in touch with Panoramic Bifolds? We stock a leading range of bifold doors from quality manufacturers around the UK such as REAL, Origin and SUNFLEX. As a trusted, local installer, we can fit them inside your home with shorter waiting times and lower prices than the big national brands too!
Our bifold doors come with durable uPVC and aluminium frames. As a result, these doors are fully weatherproof, helping them last for decades without cracking, twisting, rotting or decaying. Because of this, you won't have to carry out regular maintenance at all. A check every couple of months is all you need to maintain your bifold doors.
With Panoramic's designs, that check will also help your bifold doors last longer. With regular maintenance, uPVC profiles can perform for longer than 30 years, while aluminium frames could eclipse half a century of service. And, by maintaining every part of your bifold doors in the right way, you can make sure your entrance opens as well as it did on the first day of installation.
Maintain Panoramic Bifold Doors Effortlessly
Get in touch with Panoramic today, and make it easy to maintain modern bifold doors for your home!
Today, you can use our online quoting engine to explore our full range of bifold doors and customise them to suit you! You'll get a free price estimate for your design in seconds.
Alternatively, you can fill in our online contact form or call us on 01179 560 449 today to ask our friendly team any questions!
Categories: Updates
Tags: bifold doors, bifold doors maintenance, how to maintain bifold doors, maintain bifold doors